NOW ACCEPTING COMMISSIONS.
Commissions are a way for me to create a one-of-a-kind, original painting that is tailored to your needs and desires.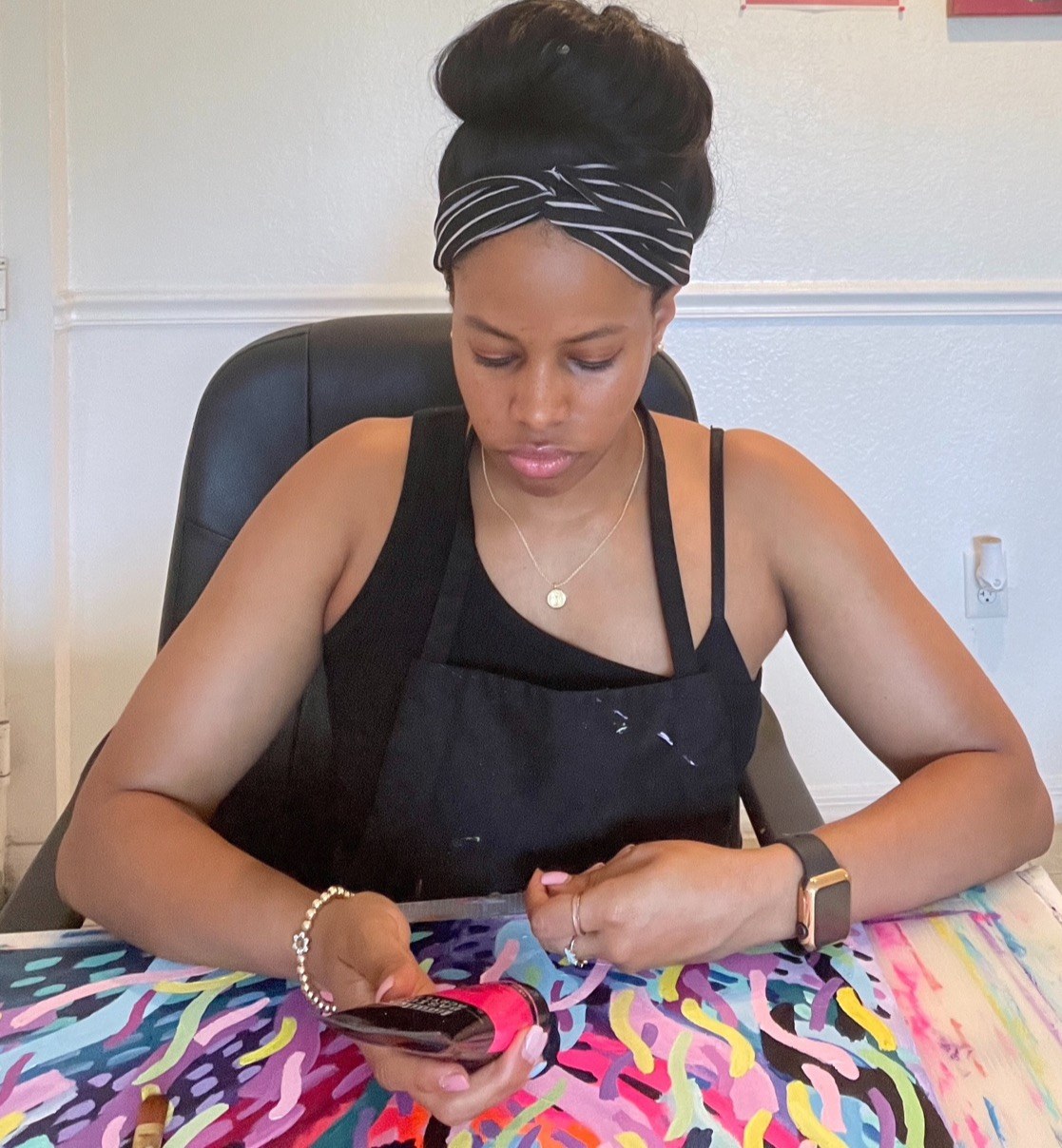 PRocess
My commission process involves several steps to ensure that the final artwork meets your specific needs and expectations.
Here's how it works:
We'll have a conversation about your artistic vision and determine if my style aligns with your preferences. We will discuss the details of the commission, including the size, style, and any specific requests you may have.
SiGN contract +
pay deposit
After finalizing the details, I will send you a contract and invoice requesting a deposit payment.
Review & request revisions
I'll keep you updated with work-in-progress pictures as the artwork develops. You are welcome to request revisions during the process, and I will provide progress pictures to ensure satisfaction with the artwork.
submit final payment & receive your artwork
I will provide you with a final preview of the completed artwork, send an invoice for the outstanding balance, and proceed with shipping the artwork to you.
Overall, my commission process is designed to be collaborative and transparent, ensuring that you receive a piece of art that is tailored to your specific needs and vision.
PRICING
Pricing is based on the size of the canvas and is as follows:
5x7" - $35
8x10" - $80
9x12" - $115
11x14" - $150
12x12" - $150
10x20" - $200
16x20" - $ 350
20x20" - $425 +
18x24" - $430 +
24x36" - $875 +
30x40" - $1200 +
36x36" - $1300 +
36x48" - $1700 +
+ additional shipping charges will apply
The cost includes my one-on-one time with you, the time spent painting, shipping expenses, and the cost of necessary supplies such as canvas and paint.
What kind of artwork do you create?
I specialize in creating colorful and vibrant abstract art that features lines, dots, and splatter. My work is known for its playful and energetic style that captures movement and emotion. I often include shapes like hearts and butterflies in my pieces, which add an extra element of whimsy and joy. If you're looking for unique and eye-catching artwork that will bring color and energy into your space, my art might be just what you're looking for!
WHat mediums do you work with?
I primarily work with acrylic paint as it allows me to create vibrant and bold colors, and dries quickly, which allows me to work faster and add layers without having to wait for extended periods. I also love the versatility of acrylics, which allows me to use a variety of techniques such as layering, splattering, and brushstrokes to create different textures and effects. As for my canvas, I use high-quality stretched canvas, which provides a durable and long-lasting surface for my artwork.
How long does it take to complete a commission?
The time required to complete a commission can vary depending on several factors, including the size and complexity of the artwork, and the current workload in my schedule. However, on average, it can take anywhere from 1-4 weeks to complete a commission.
How do i request a commission from you?
If you're interested in commissioning a piece of artwork from me, the first step is to book a call with me via Zoom.
can i request changes or revisions to the commission?
Yes, you will have the opportunity to request revisions or adjustments to ensure that the final artwork meets your expectations.
how do you handle payment for commissions?
I require a 25% deposit and I handle payments for my commissions through an invoice sent via Stripe, which is a secure and reliable payment processing platform. Stripe accepts most major credit cards, debit cards, and bank transfers.
Do YOU OFFER REFUNDS OR CANCELLATIONS?
Cancellations made within 24 hours of the initial deposit payment will receive a full refund. However, if you choose to cancel the commission after the 24-hour period or after I have started working on the artwork, the deposit will not be refunded. If you approve the final artwork and the piece has been shipped, no refunds will be offered unless damages were incurred to the artwork during transit.
what rights do I have to the commissioned artwork?
As the artist, I retain the copyright and reproduction rights to the commissioned artwork, unless otherwise specified in our contract.
15 min call via ZOOM
I'm so excited to chat with you and get to creating!